Summer Program 2018
The love of learning keeps going during the summer months at Bannockburn! Bannockburn will offer exciting and fun day programs for children of all ages, running between
June 25th – August 3rd 2018
.
Click on the image below to view our 2018 Summer Camp Brochure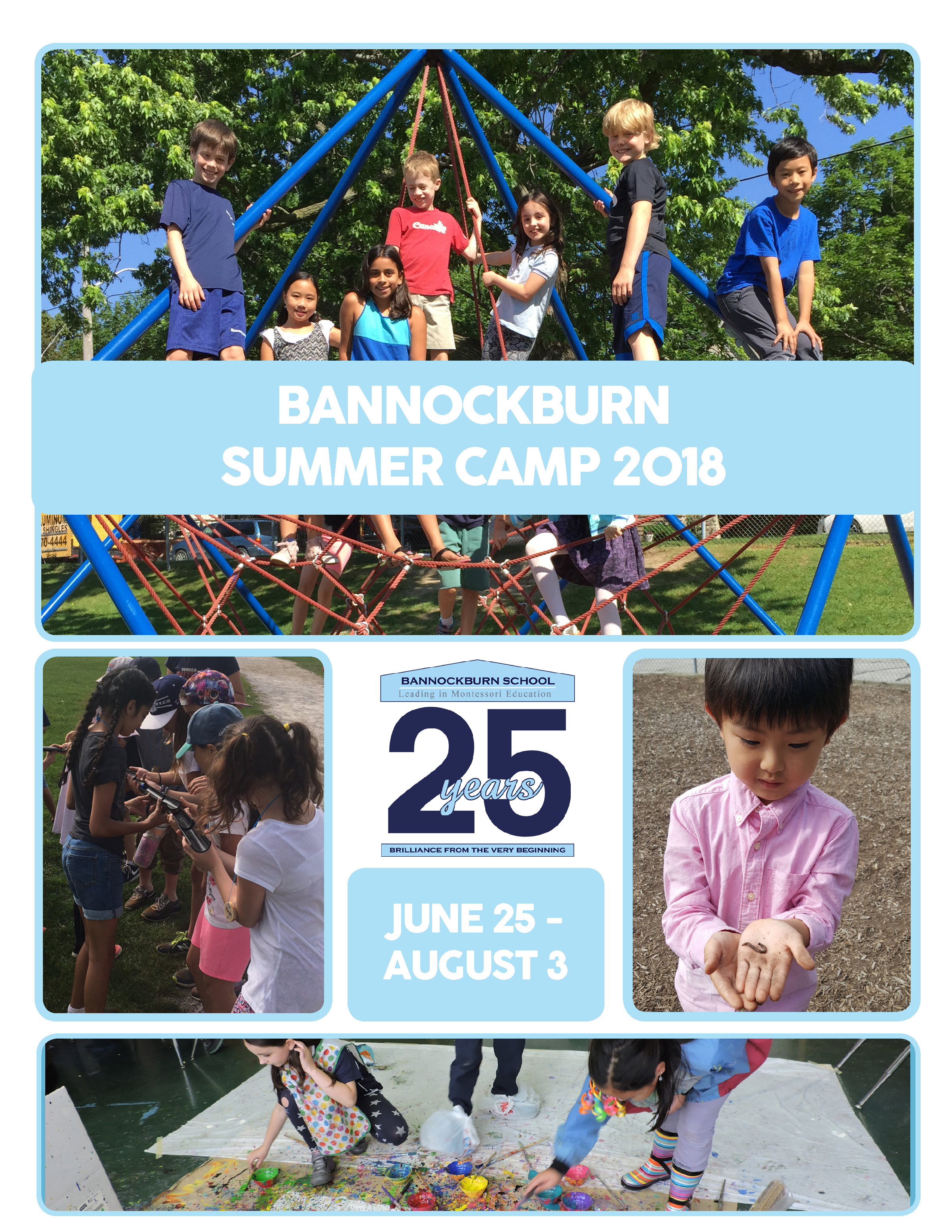 If you think that the Bannockburn Summer Program is what your kids need to have a fun-filled and enriching summer this year, don't wait! Register now as spaces are limited!
---
Bannockburn School also offers a Toddler Summer Program and a 3 Year Old Summer Program only for current Bannockburn students. The Summer program is an extension of our Toddler and Primary programs with some exciting additions including classroom time, gym and library experience, art lessons and musical movement activities. The Toddler Summer program runs from
June 25th-August 3rd
.
---

Summer Work Opportunity
Type:
 Summer Day Camp Counsellors
Location:
 Bannockburn School, Toronto Bannockburn School is located in North Toronto and is considered a leader within Montessori education. Bannockburn School is offering a Summer Camp for children aged four to twelve. The program will be offered for six weeks (June 25
th
– August 3
rd
) and includes sports, science, drama, engineering, and art activities. We are looking for counsellors that are energetic, creative, dedicated, and team-oriented. Camp hours are Monday-Friday; 8:30a.m. -4:00p.m. with compensation starting at $14/hour.
Key Roles:
Responsibility: Ensure summer program participant safety at all times
Leader: Lead youth aged 3-12 in camp games, multisport, science, drama, arts, music, and engineering activities
Team-Oriented: Work collaboratively within a staff to create and deliver engaging programming
Motivated: Engaged, enthusiastic, energetic are all attributes that will help the applicant succeed within our summer program environment
All staff will be required to take part in a staff orientation during the week of June 19th.
Relevant Qualifications and Experience:
Must be at least 16 years of age
Previous experience working with youth within a school, camp, or extra-curricular setting
Experience organizing and leading activities
Creative and able to be flexible with their thinking
Demonstrated ability to work within a team
CPR/First Aid course certification
Additional Opportunity
If you are younger than 16 years of age please apply for our Counsellor in Training/ Volunteer Program. This program allows high school students to complete their community service hours while building leadership skills as a counsellor.
How to Apply:
Fill out the application form below and submit it along with your cover letter and resume to David Shaw and Julianne Villella at 
camp@bannockburn.ca
. Applications will be reviewed as they are received. Successful applicants will then be contacted for an interview.